My 8th and final semester was closing fast and my college has a policy of allowing students to leave if they score an internship. Determined to leave, the 7th semester was all about applying to internships and going mad in the process as I couldn't bear the idea of staying in hostel when I had an opportunity to leave.
Though I had follow up offers from some cool places in Gurugram and Bangalore, I decided to at least apply at Observe.AI because they are an insanely fast growing startup, promising the high-velocity work experience I was looking for and had just recently raised an excellent Series A funding. After nearly 4 follow-ups, 2 technical interviews and lots of self doubt, I finally received my internship offer. Boy, I'm glad that I took it.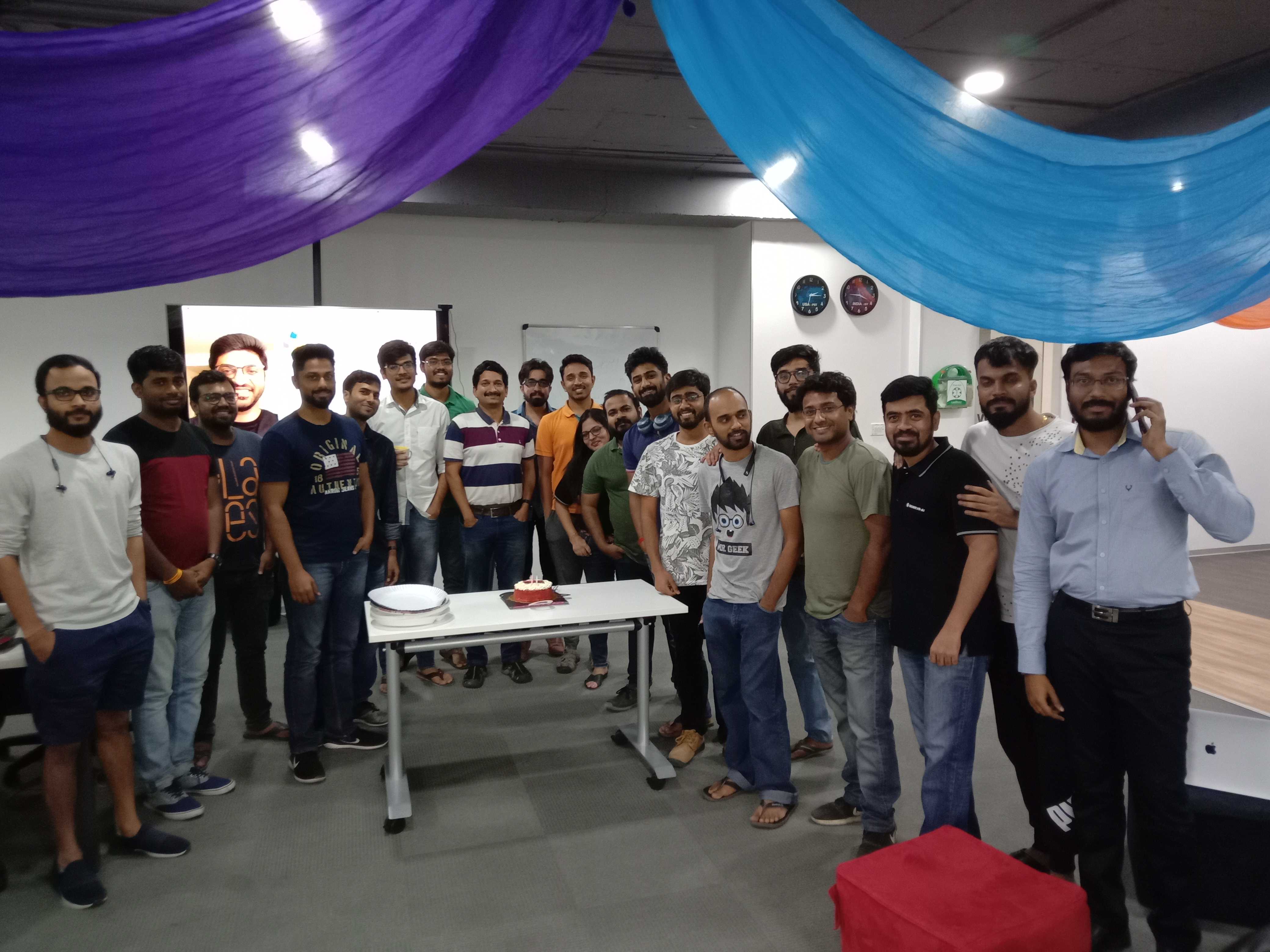 The first few days at a new workplace can be very important in setting the tone and the Observe.AI team didn't miss any opportunity to make sure it's an amazing experience for their new intern.
As soon as I stepped into the building, one kind co-worker was ready to walk me to the office and help me get comfortable. "Wow!", I said to myself, when I laid my eyes on the office space which had modern, clean, well defined walls glazed with large glass panes, all inked with complex diagrams and lists. The office space was well lit with ample 4K displays, MacBook Pro(s) and strikingly functional desks.
Within a few minutes I found myself participating in the onboarding process comprising of preliminary cultural talk, deep technical/stack overview and a 1-to-1 with CTO followed by formal introduction with everybody in the organization. By the time I was done with the talks and introductions, my email, BitBucket, AWS etc credentials were ready and off I went speeding to be the Day #1 productive employee.
Friday came fast and faster came the time to party. I was invited to the new year bash which was a private party hosted at The Paul, Domlur, Bangalore. I can't delve too much details 😝 here because I would end up incriminating myself but let this be said there was enough of food, booze and crazy dance for everybody.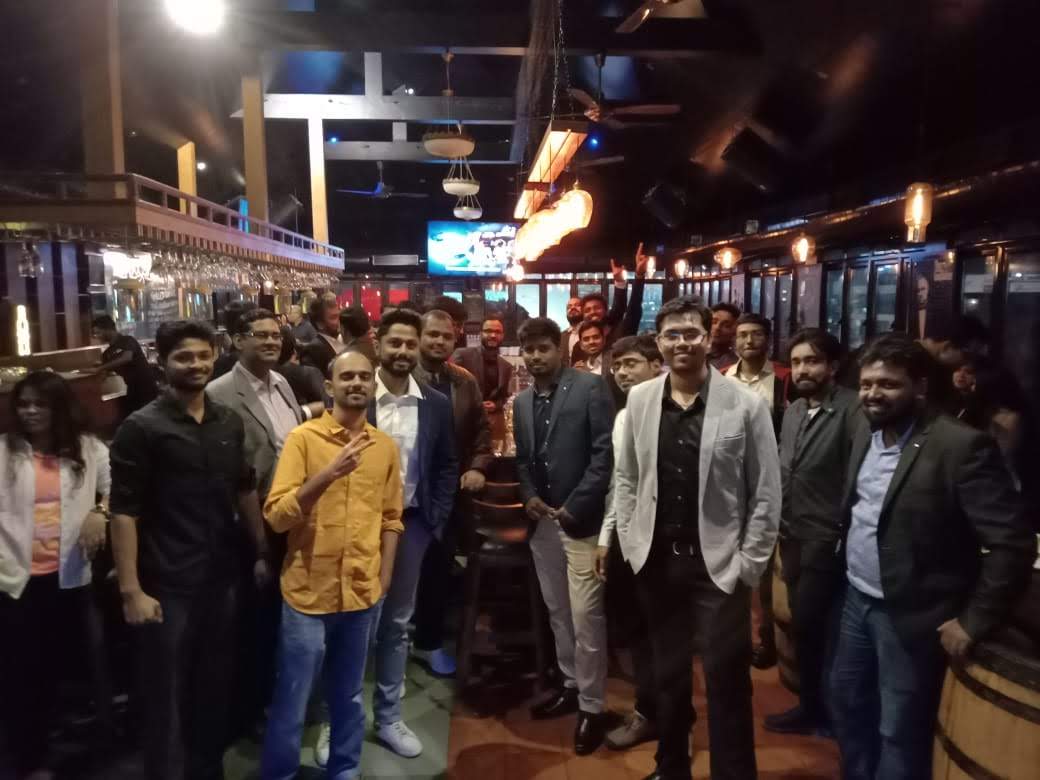 Coming from rather dark helms of hostel, my first impressions were: "Whoa! This is lit." The #GudLyf indeed exists and it is here.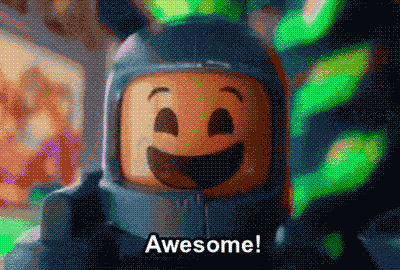 It is an open office with very accommodating people and you could approach anyone anytime to have your questions answered. Quite a few times, I'd just go and chat with the CEO on random topics and he was kind enough to give me a glimpse of the CEO Life. I believe I tend to ask a lot of questions to the point of exhaustion and, fortunately, all of them have been graciously answered by my co-workers.
You can sit anywhere you want, stream on any of the ultra wide displays, use the facilities to your hearts content or sit down and admire the soft bedding of the bean bags or the furniture. If hunger distracts your focus you can pounce on myriad of snacks, juices, fruits or order just about anything because this is Kormangala (they reimburse your food). As far as food is concerned, there is breakfast + lunch available daily and Wednesdays are filled with surprise snacks @ "Snack Attack".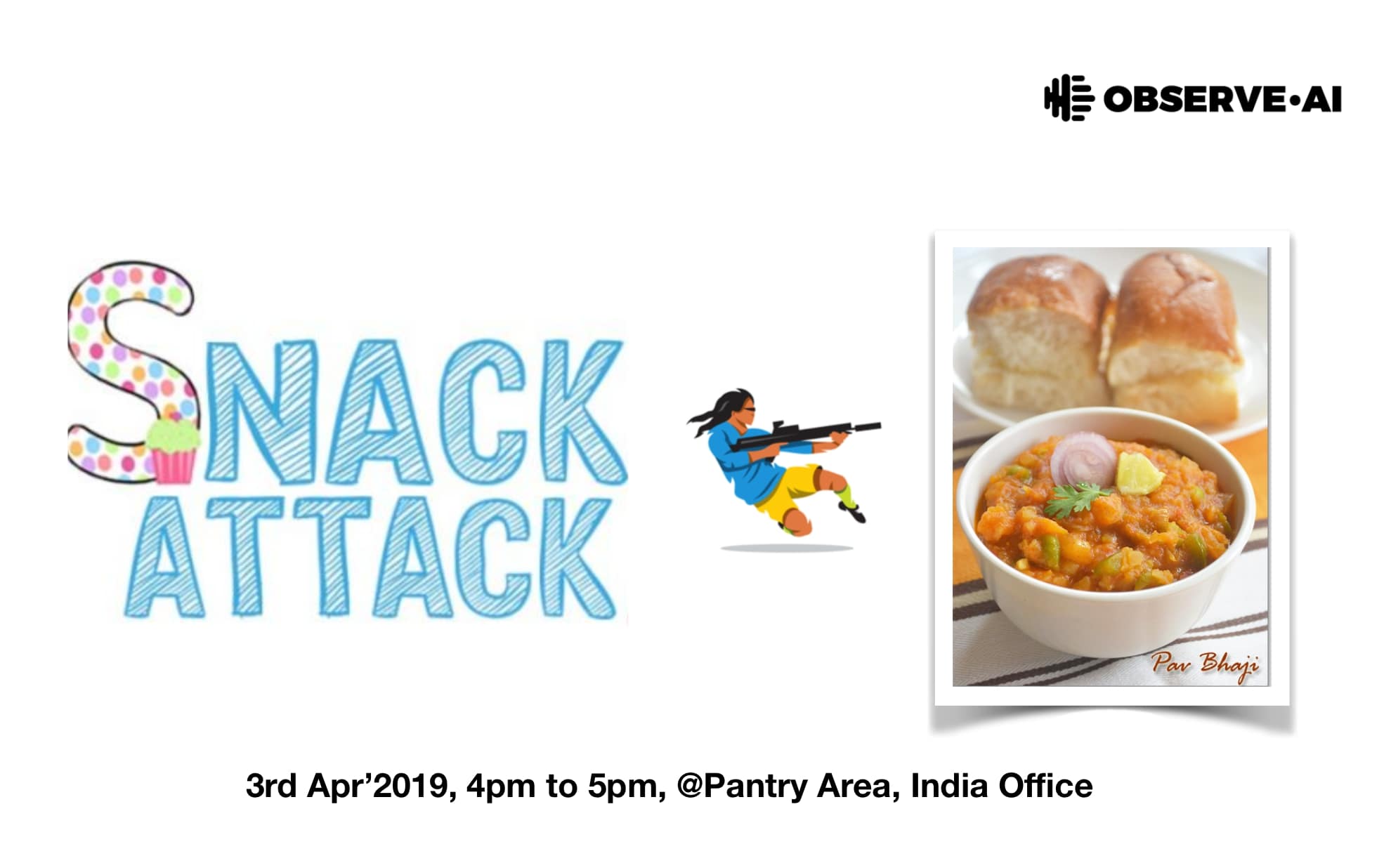 Did I tell you about all the Pizza we get to devour on Fridays?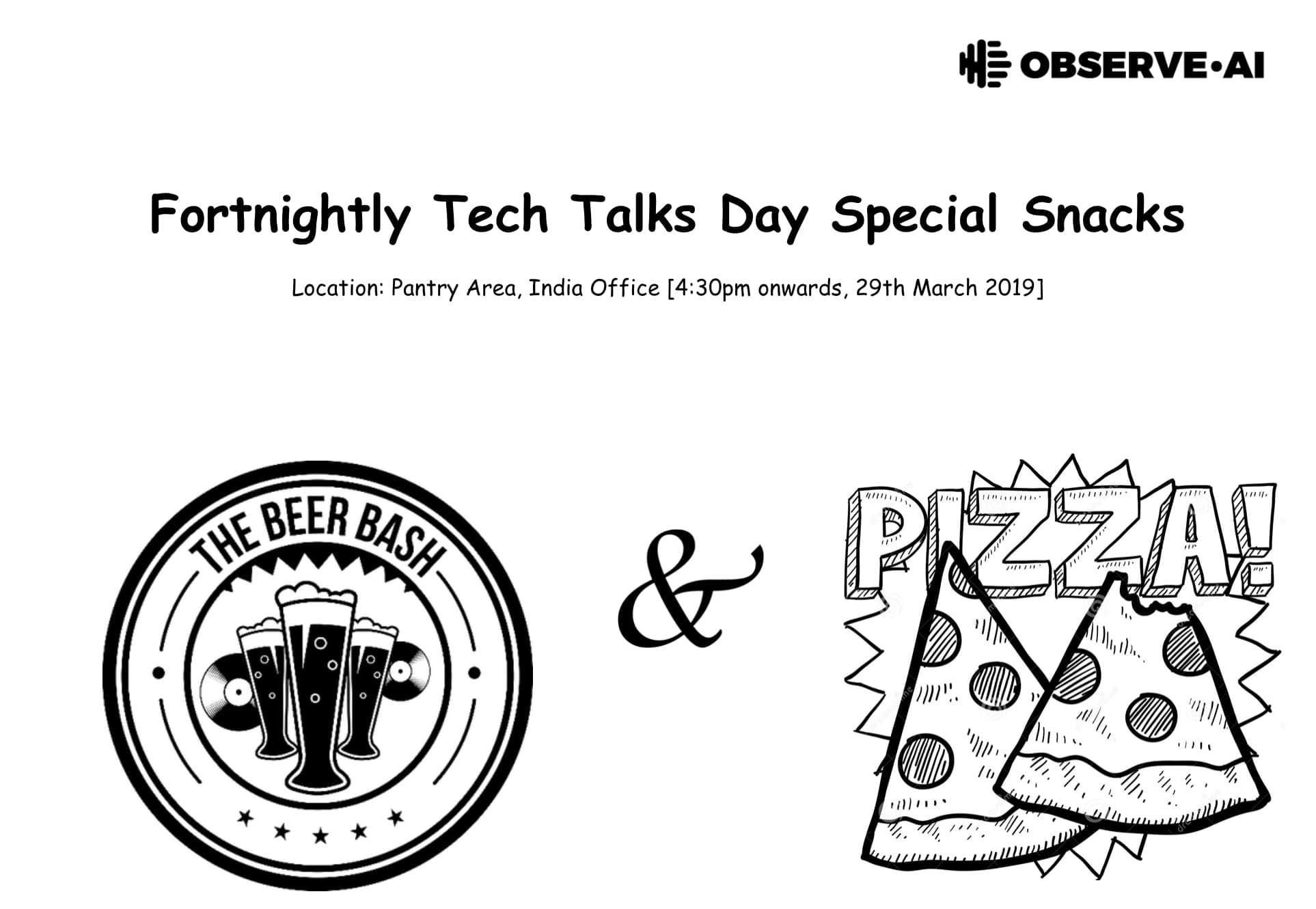 That wasn't enough and little did I knew they had better plans. What started with a good ol' regular cushioned chair with an empty desk was soon given companionship of a wide screen Dell monitor, a laptop stand, the Apple Magic Touchpad and Keyboard. 🤘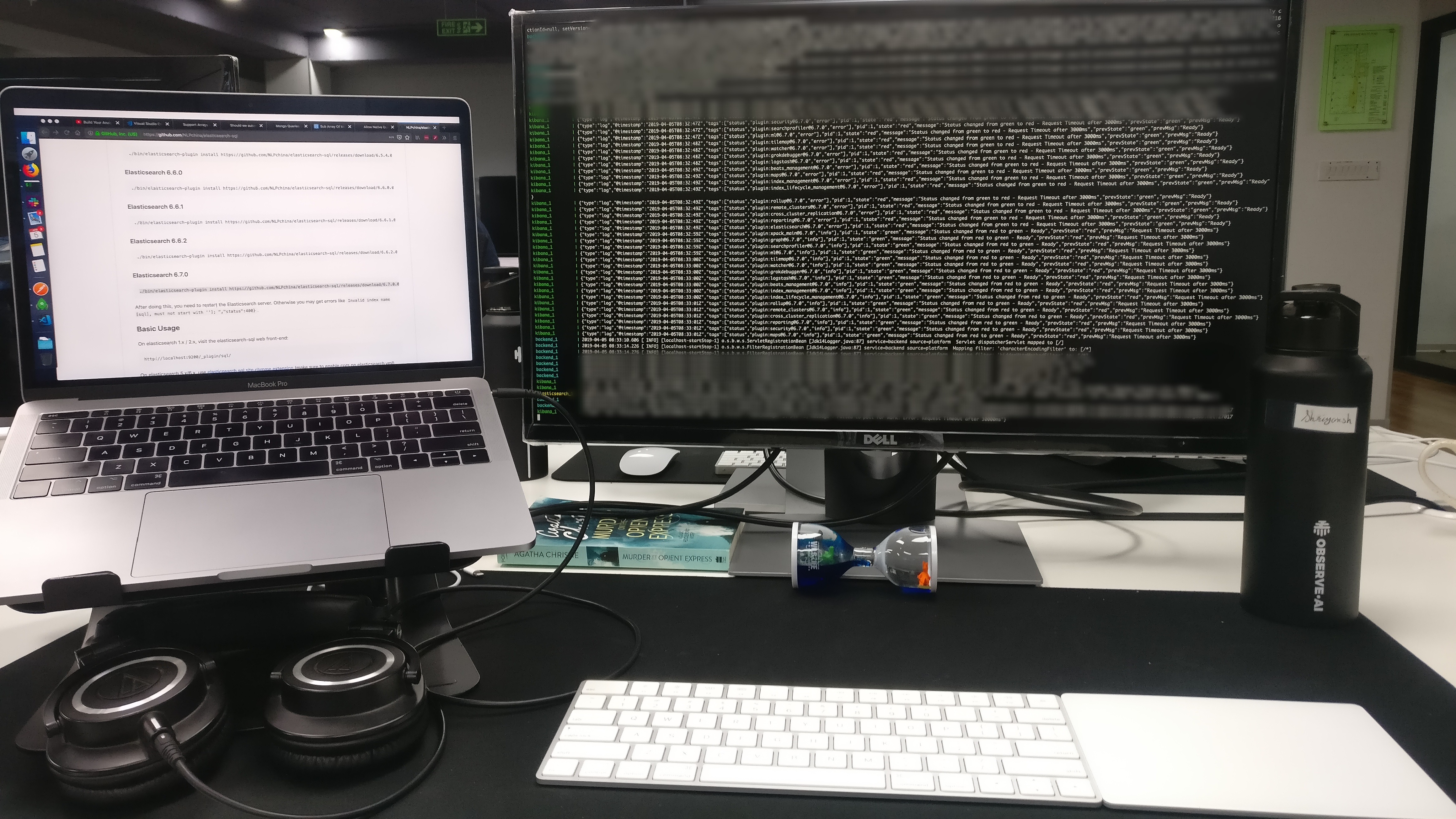 [Did I tell you about the ultra wide gaming pad?]
That's was still not enough and Observe.AI again managed to outdo themselves when a 2 day off-site was arranged for all the India employees (including me). Off we went to The Golden Palms Resort; away from the continuous clicks of the keyboards, the noisy city roads, the pressure to deliver and the chaotic city life for a 2 day carefree, uninterrupted chill weekend.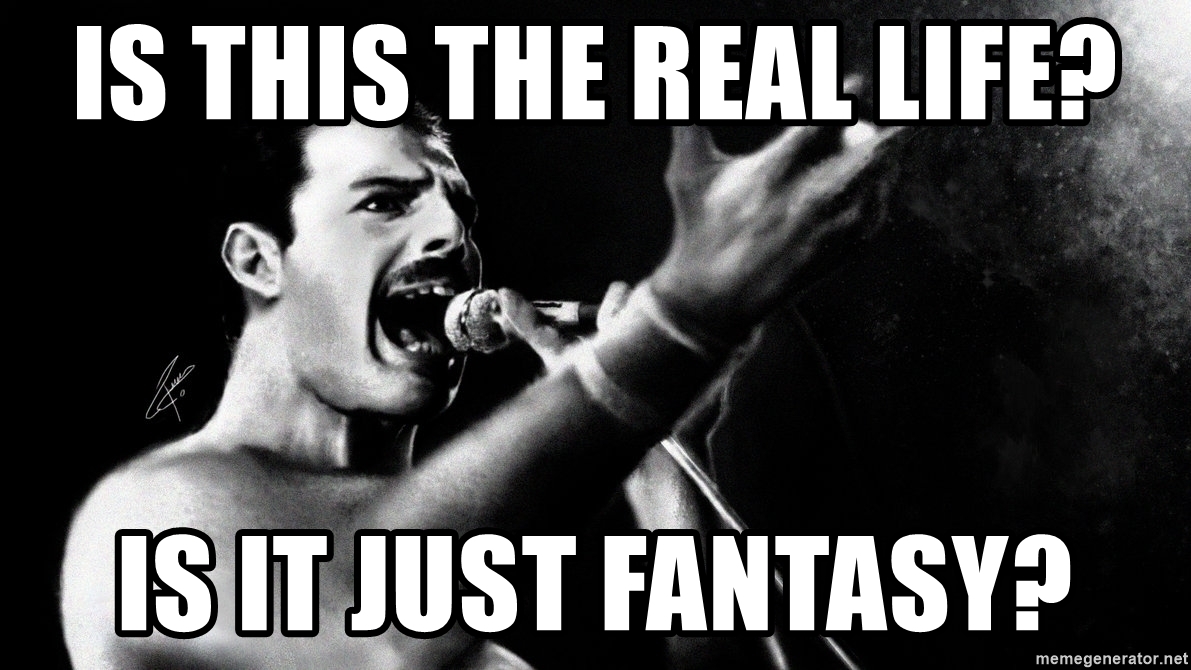 Parties aside, on joining, I was tasked with scaling and creating a service out of the then present single host Jenkins build system and run it in a master-slave configuration. It was imperative that this had to be done without downtime because the whole of the engineering team depended on Jenkins to build their projects. One can't let production stop because he is busy trying to get the build environment up and running. The matter was further complicated by the various choices made during the past that didn't account for such a scenario.
To ensure uninterrupted builds, it was best to migrate the current Jenkins configuration while making minimum changes to accommodate for master-slave configuration with the technical debt that is present being handled over the course of a large span of time as and when needed to ensure smooth operation.
My next task was to help improve identification of proper nouns in a customers transcripts. Consider for example a customer "Farfetch". It's name is likely to appear at least once in its call transcript but because generic Automatic Speech Recognition (ASR) systems are not trained on such nouns, they fail to recognize them.
Fortunately, such ASR systems also generally provide the phoneme sequence of the transcripts. By converting proper nouns into their respective phoneme sequence using open source tools such as CMU Dict the result can then be directly used to lookup for a proper noun occurrence in the phoneme sequence matrix of a transcript. With this knowledge it became possible to be able to provide better transcripts to all the customers.
Since Observe.AI is currently pushing for ISO certification, my working hours are being currently consumed in helping setup the relevant security policies on AWS and the applications.
Looking forward to the next 3 months of my internship. 🍻